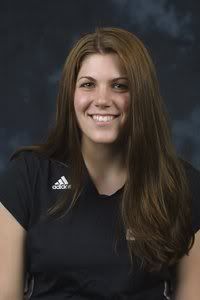 Right side hitter, Katie Hatch. The Turzman's new fave Coyote V-ball player.
After a stunning and rare loss at home to Cal Poly Pomona Friday night, the Coyotes bounced right backed and swept Cal State Dominguez Hill. Here is the full story, as seen on The Coyotes Online...
SAN BERNARDINO -- Still smarting from a rare 3-0 home defeat administered by Cal Poly Pomona on Friday, Cal State San Bernardino took their frustration out on Cal State Dominguez Hills Saturday night with a convincing 3-0 sweep in a CCAA volleyball match in Coussoulis Arena.
The Coyotes, 12-3 overall and 6-1 in the CCAA, got a match-high 12 kills from sophomore right-side hitter Katie Hatch and 11 kills and 10 digs from freshman outside hitter Traci Weamer (her sixth double-double of the season), to down the Toros 30-12, 30-13 and 30-16.
Sophomore setter Kristin Ingalls saw plenty of action, with a match-leading 20 assists while senior setter Cristen Trent had 15 assists. Senior middle blocker Amy Long had two solo blocks and three block assists. She now has 16 solos thus far in 2005
Kristin Sosa had a team-high six kills for the Toros, now 4-9 overall and 1-7 in the CCAA. Amber Harder had 18 assists while libero Sylvia Bonilla had a match-high 11 digs. The Toros offense was stifled by the Coyotes, hitting a minus .042 on 23 kills in 96 attacks with 27 attack errors. CSUSB had 13 team blocks and 22 block assists with Jessica Granados, Sara Rice and Sharea Drawn each getting for block assists.
The Coyotes hit a phenomenal .425 as a team including .577 in game two as they converted 42 of 80 attacks with just eight attack errors. Hatch hit .474 on 19 attacks while Weamer was an efficient .611 hitting on 11 of 18. Lisa Dogonyaro notched three service aces off her jump serve. The Toros had just two block assists the entire match.
It was a rough road trip for Cal State Dominguez Hills, facing the nation's No. 10 team -- UC San Diego -- and the No. 2 team -- Cal State San Bernardino -- on successive nights.
Now it's the Coyotes turn to play tough teams on the road, starting with Cal State L.A. on Oct. 7 and Cal State Bakersfield on Oct. 8, followed by a match at UC San Diego on Oct. 15.
Both games were webcasted LIVE on Coyote Radio. The next volleyball webcast will be on October 28 & 29.
Play these...
A 3-D version of Pong called, CURVEBALL.
http://kontraband.com/show/show.asp?ID=931&rtn=main-topten
A personal fave, Mad Shark-
http://www.ebaumsworld.com/madshark.html
The very cool De-Animator. Beat my record of 538 zombies blasted...
http://www.ebaumsworld.com/deanimator.html
A variation of the classic Breakout called, Breakit...
http://www.ebaumsworld.com/breakit.html
Bumper cars meet Air Hockey in Bumperball...
http://www.ebaumsworld.com/bumperball.html
See how far you can knock these penguins...
http://n.ethz.ch/student/mkos/pinguin.swf
My record is 313 feet.
Help this drunk stagger home...
http://www.ebaumsworld.com/homerun.html
Try to beat my 412 meters.
The water supply to Chasmtown has mysteriously stopped. It's up to you to solve the mystery. I completed this game in under an hour...good luck!
http://www.ebaumsworld.com/chasm.html
Watch this girl fall and bounce lifelessly on randomly placed bubbles...
http://www.ebaumsworld.com/flash/bubblegirl.html
Click and drag to throw her body around too!Test your aim with Papertoss...
http://www.ebaumsworld.com/papertoss.html
Here are some timeless songs that will never be too dopey or uncool to be found at Turzman Central…
The very cool Badger Song-
http://www.badgerbadgerbadger.com/
The equally cool Llama Song-
http://www.albinoblacksheep.com/flash/llama.php
The Great White Shark Song, by abc-
http://www.abc4explore.com/gwsharksong.html
And of course, America, F@#k Yeah!!!
http://www.cannibalthemusical.net/ta/america.htm