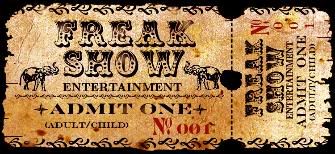 My friends at Freak Show Entertainment have entered their most recent film, "Back Alley Butcher" in a film festival.
For those of you in or around California's Inland Empire, come out to the screening on Saturday, Feb 17 at the world famous Coffee Depot in downtown Riverside.
I have a small and meager, yet intricate part in the film. I'm credited as "guy on the radio."
The Coffee Depot is world reknown as the place where The Swinging Johnson Brothers perform LIVE every other Sunday, and is located caddy-corner to the equally world famous Spaghetti Factory.
Visit the freaks at Freak Show-
http://www.freakshowentertainment.com
Back Alley Butcher
-
http://freakshowentertainment.com/FSE/BackAlleyButcher.html
Look for my picture, along with the rest of the cast & crew -
http://freakshowentertainment.com/FSE/Cast_And_Crew.html
Last, but certainly not least, swing your johnson with vigor!
The Swinging Johnson Brothers -
http://www.swingingjohnson.com/main.htm