Thursday, May 18, 2006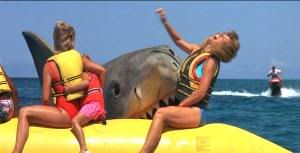 "To her dismay, Janet's theory that Great White Sharks are afraid of giant bananas is proven wrong."

Sunday, May 14, 2006
That's right, kids. The Seattle Mariners called RHP Emiliano Fruto up to the bigs from AAA Tacoma this morning, and he made his major league debut in relief against the Anaheim Angels.
Now, you may ask, "Who the hell is Emiliano Fruto?"
He's nobody, really. It's just that my dad and I saw him pitch at just about every Inland Empire 66er game we went to when he played for them 3 seasons ago.
And every time my dad and I would heckle the sh*t out of him.
Cries of "Fruuuuutooooooo" would echo throughout Arrowhead Credit Union Park and waft into the deadly streets of downtown San Bernardino, and we would giggle our asses off every time.
Oh, the memories. FRUUUUUUTOOOOO!
So anyway, we didn't think much of him back then or much lately until I'm watching the Angel game on
www.mlb.com
and lo & behold, there's Fruto, coming in to relieve Gil Meche with a 3 run lead in the 6th inning.
So you might ask, "How did Fruuuuutoooooo fare in his mlb debut?" I'm glad you asked.
On only the third pitch of his Mariner career, he got Chone Figgins to ground into an inning-ending, rally-killing double play.
In the 7th, Fruto retired the Angels in order, including a weak pop-up from Vladimir Guerrero.
In the end, Fruto earned his
first professional save
. Here's the line:
Fruto pitched 3.2 innings, allowing ZERO runs on only one hit. He walked one batter and didn't strike anybody out.
So here's to you, Emiliano Fruto, on your major league debut. May you have many successful seasons with the Seattle Mariners. This battle cry is for you:
FRUUUUUUUUUUUTOOOOOOOOOOOO!!!