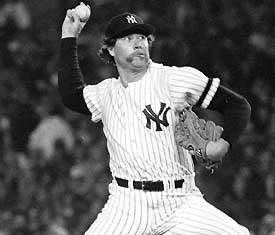 Gossage hopes this is his year12/26/2006 10:00 AM ET
By Barry M. Bloom / MLB.com
Rich Gossage is hoping that his eighth year on the Hall of Fame ballot will be sprinkled with some magic.
Each year since the Baseball Writers Association of America has had the opportunity to vote for him, Gossage, one of the top relief pitchers in history, has been less and less optimistic about his chances.
"I've felt the best this year, though, about the possibility of going in," Gossage said from his home in Colorado Springs. "I don't know if that's because of the feedback I'm getting from the writers who are calling me or what. The funny thing is, I always hear the good things. Nobody ever calls to tell me why they didn't vote for me. I guess they never would, but I never even hear it through the grapevine."
The man they called "The Goose," who strode to the mound to close games with his spitfire fastball, was heartened by the fact that Bruce Sutter, another premier reliever from his era, was elected during the class of 2006.
Sutter was preceded by Hoyt Wilhelm, Rollie Fingers and Dennis Eckersley, three closers, like Gossage, who also started during their stellar careers. Sutter was the first reliever inducted who hadn't made at least one start.
But Gossage still believes he separated himself from the rest. "I don't think anybody did it the way I did it," Gossage said. "Power against power. There was no messing around. All those strikeouts I had, none of that is padding. Just about every one of them meant something because the game was on the line."
The Goose's baseball career line over 23 seasons is a road map of baseball stops around world: Chicago (White Sox), Pittsburgh, New York (Yankees), San Diego, Chicago (Cubs), San Francisco, Yankees again, Fukuoka, Japan, Arlington, Tex., Oakland and Seattle.
Gossage finished 124-107 with 1,502 strikeouts -- nearly one an inning -- and a 3.01 ERA. His 310 saves are 16th on the all-time list, but he never had more than 33 saves in a single season -- reaching that mark in 1980 with the Yankees.
A power pitcher who snarled beneath his mustache and intimidated hitters with his 98-mile-per-hour fastball, along the way Gossage went from rookie closer to starter back to veteran closer and finally finished as a setup man.
Near the end of his career, Goose set up for A's closer Dennis Eckersley, who was elected to the Hall of Fame in 2004 and may have broken some ground for relievers. Eckersley had the added advantage of spending the first 12 years of his career as a competent starter.
But when it comes to closers, Gossage doesn't want to be compared to Eckersley or any other in the recent era, such as the Yankees' Mariano Rivera or the Padres' Trevor Hoffman, who took over the all-time saves lead in 2006. "We're not even in the same league," said Gossage, who is 54 years old now. "Whether I belong in the Hall or not, I don't even know. I really don't. I guess what I based my hopes on, the reason that I thought I had a good shot, was that Rollie Fingers is in. I don't know what I did that Fingers didn't do. Is there something that I'm missing? I'm even more baffled because he's in the Hall."
Fingers, who was inducted in 1992, had 341 saves and threw 1,701 innings in 17 seasons. Gossage had 31 less saves in 1,809 innings. Fingers was used by the A's as a starter, too, and appeared in both roles early in his career, many times in the same season. Even so, Fingers had seven seasons as a reliever when he logged 100 innings or more. Gossage did it four times and came close in several other seasons.
In comparison, Eckersley did it as a reliever only once. So has Rivera. Hoffman has never done it.
And that's the real dilemma. The role of the closer has so dynamically changed since Gossage played that there's no criteria for how writers vote. But Gossage's star has been rising among that privileged class.
In 2006, when Sutter was elected, Gossage's name was penned on 64.2 percent of the ballots, up from 55.2 percent in 2005 and a big rise from the scant 40.7 percent he garnered in 2004.
A former player needs to be named on 75 percent of the ballots cast to be elected and has 15 years of eligibility.
Gossage would routinely pitch multiple innings in big games. Eckersley, with his 390 saves in 12 seasons as a reliever, Hoffman with his 482 saves, and Rivera with 413, usually were and have been restricted to one or two innings.
Most of the time, the trio would be handed the ball with a lead to open the ninth. "I think I had a lot to do with setting the bar for relievers and doing the job the way it should be done," Gossage said. "I went and set up for Dennis (1992 and 1993), so I know the way he was handled, how pampered he was over there. Not to take anything away from these guys, to compare what I did with what they did ... It was even a joke with the coaches. We joked with Eckersley all the time. He's a good buddy of mine.
"Don't even compare me with Dennis Eckersley or Mariano Rivera. I'd love to have been used like them."
This story was not subject to the approval of Major League Baseball or its clubs.