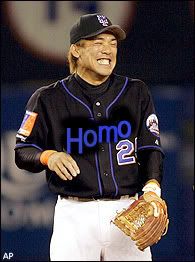 In what can be summed up only as the greatest thing to happen to the New York Mets since GM Steve Phillips was fired, the Mets have TRADED THE IMPORTED WASHOUT, KAZ MATSUI.
I thought the Amazin's would be stuck with that under-achieving jerk until his contract was up, but the Colorado Rockies, the official Huckleberries of the Mets, are taking a chance on Kaz and sending OF/1B/C Eli Marrero to Flushing.
Of course, now that he's no longer a Met, Kaz will probably bat over .360 and hit 30 homers at Coors Field, but who cares?
He's no longer a Met and Eli Marrero is my hero.