So I'm at Arrowhead Credit Union Park, taking in the game between the host Inland Empire 66ers and the Visalia Oaks and then the announcement is made:
"All fans in attendance shall receive a free loaf of bread and tube of toothpaste."
No shit. I can't make this up, people.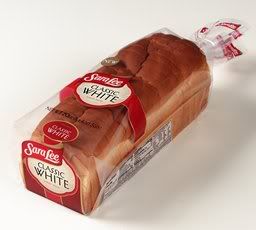 After the game, as we flocked to the parking lot under the cover of the weekly Friday Night post game fireworks show, all fans actually received a loaf of Sara Lee white bread and a tube of toothpaste. God, I love the minor leagues.
Final score... Sixers 6, Visalia 4.
If you're curious, here are the California League Standings:
NORTH
Stockton 36-24 --
San Jose 35-26 1.5
Modesto 30-29 5.5
Bakersfield 29-32 7.5
Visalia 24-36 12.0
SOUTH
High Desert 36-25 --
Lancaster 32-29 4.0
Rancho Cucamonga 30-30 5.5
Inland Empire 26-34 9.5
Lake Elsinore 23-36 12.0
By the way, the results of the 48 Hour Film project are finally in.
The Freak Show Entertainment entry "Spyware," hauled in 4 awards and came in a close second place. Here is the announcement as seen at
http://www.48hourfilmproject.com
San Diego 48 Hour Film Project The Results Are In!
The Judges Have Spoken! Our panel of judges has made its decision. Congratulations to all of the filmmakers and teams who participated. We are proud to announce our San Diego winners!
JUDGES' AWARDS:
Best Use of Character
"Amor Tomado" by Team Squeeze!
Best Use of Prop
"Superhero Form 3254-A" by Atomic Toast
Best Use of Line of Dialogue
"Superhero Form 3254-A" by Atomic Toast
Best Special Effects
"Superhero Form 3254-A" by Atomic Toast
Best Costumes
"Wannabe" by Galaxy Films Productions
Best Music
"Spyware" by Freak Show
Best Sound Design
"Spyware" by Freak Show
Best Acting
"Scared Slim" by Extreme Film Crew
Best Editing
"Spyware" by Freak Show
Best Script
"Scared Slim" by Extreme Film Crew
Best Cinematography
"Spyware" by Freak Show
Best Directing
"Scared Slim" by Extreme Film Crew
Best Film
"Scared Slim" by Extreme Film Crew
"Spyware" can be seen at the Freak Show website:
http://www.freakshowentertainment.com