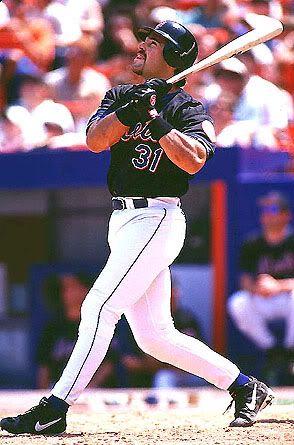 The San Diego Padres and former Dodger and New York Met catcher Mike Piazza agreed on a one-year deal worth $ 2 million, according to Fox Sports Internet news services.
Before signing Piazza, the Friars were set on platooning career backup catchers David Ross and Doug Mirabelli behind the plate.
I can't be the only one surprised to see "Pizza" sign with another National league team. His defensive catching skills have always been lousy at best, and constant injuries prevented his bat from being the major threat it once was, many years ago. The only American league teams to consider signing the prematurely over-the-hill backstop were unwilling to part with their respective DH's to make room for Piazza.
Baltimore move have had to move catcher Javy Lopez, Texas would have had to part with Phil Nevin, and the lowly Tampa Bay Devil Rays would have had to trade Aubry Huff. None of them were willing to make those moves.
The only other team to show interest were the New York Yankees, and apparantly Steinbrenner finally learned how to spend his money wisely, and balked at bringing Piazza across the Big Apple.
Did San Diego make a good investment with a mutual option for a second year worth $ 8 million? Does Pizza have any gas in the tank and if he does, can he stay healthy as a full time catcher? Leave your thoughts on the message board or at the guestbook.